Freddy's free-kick still hits the spot five years ago to the day
Feature by exiledessexboy
Updated Monday, 7th November 2011
November 2006: It's Freddy day in Southend and a five year anniversary to boot of former striker Freddy Eastwood's great free-kick that knocked Manchester United out of the Carling Cup, and it still looks good!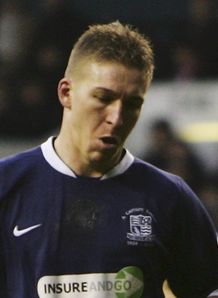 Eastwood; as we remember him, in a darker shade of Blue
Unloved & unwanted in the west midlands he may be, www.southendunited-mad.co.uk, but Freddy Eastwood is still a scoring legend down Southend way, and if for nothing else then a certain free-kick on a chilly Autumn evening when Rooney & Ronaldo came to town, and were sent back up the M6 with the name of Eastwood always associated with one of the great cup upsets.
'That' free-kick: http://www.youtube.com/watch?v=jFysv6je59M
Oh what a night, early November 2006! The day we beat Manchester
United and the world all supported Southend. (I woke up to an e-mail
from my cousin in Freemantle Western Oz congratulating the team, and he hates "soccer"!)

The night started early at 5pm with drinks in the Last Post. Even
then four rows of chairs had already been out in front of the big
screen and several red shirts were in evidence! ("I saw Rooney at
the airport, won't play", I was told by one Man U supporter with a
strong Essex accent. Think he'd hit the guest ales a little early!)
Bemused punters who were there for the cheap steak and a drink night looked on as the atmosphere was already building for supporters with or without tickets for the game.

Off to the Cricketers for more refreshment as a mate texted me,
Ronaldo and Rooney are in! What happened to the kids Alex, thanks a
lot!

Got to the match at 7.30pm and Roots Hall was already packed, this was going to be special.
Unlike the Championship I felt no real tension, I was hoping the players felt the same and would go out and prove what a good side they really are, they did!

Reports on web sites around the world and the Sky pictures in
hundreds of pubs and homes told the story, we had not only beaten the present best team in the country, we had outplayed them.

Personally I got myself in a zen like trance, I would just enjoy the
game whatever. My mask slipped twice. First when ref Rennie, you
just knew he would make himself centre screen somehow, what a daft
booking for Darryl, let Hooper limp around the pitch for 5 minutes
but blew up as soon as Rooney went down and we were just about to
launch another attack down the right wing.
Yes I know, head injuries, but he should have at least stopped play for Hooper when the ball went off for a throw in in front of the Easts. Stupid and potentially dangerous for the boy. I did go a touch too balistic, the tension I'd been hiding so well let loose. I went back to my
seat for a touch of silent chanting to get back in the zone.
Then behind me I guy says to his mate, "10 minutes left". "No mate",
I said, "I think your find", as I looked at my watch, "Blimey, your
right!" The second half had flown by and now all the old favourites,
nail biting, looking at the south bank clock, ect. ect. came to the
fore......when will it end. And it did.
Great roar from the crowd and after some horrible weeks smiles on the
players faces. Fantastic and well done Tilly and Brush, they all
deserved a break.

Off to the Cricketers for more pints while remembering two of us had
to get back to London, luckily for me the other one had his car! So
after watching the ITV replay, nice words from Sir Alex, we set off
back to the smoke at around 11.30.

Eventually I got back to my flat after 1am and immediatly turned on
the tape of the match. Suprisingly to me Tim Lovejoy was in charge
of Ronnie 'The Blob' Whelan and a scaringly youthful looking Lee
Sharpe. The half hour before the game was all about how many we were going to let in! Though some dick did pop up and give us
the 'little' Roots Hall and the 'Man. Utd. players will not be used
to this' cliches.

The commentry team of Alan Parry and Alan Smith were OK and accurate and for once with Sky they didn't have to overhype the
match. "Ohhhhh, what a brilliant goal". Not how many naughts have
been added to Freddie's worth at the end, how many figures UP at the
start. 1, 2, 3 million.........whatever, I hope Freddie stays till, at least, the end of the season or an already tough task might become
impossible. Give him the money, now!
Prior and Hammell stop Rooney in his tracks
Half time it was all how much good football the Blues had played and
how "not up for it", (though Ronaldo certainly was, credit to him, even if he deserves the booing at times), and
"they are giving Southend too much space",
the Man U boys were. (Preston will not give Freddie, Mark and JCR so much time on the ball on Saturday be assured! (
'

How weird is that! - EEB
)
They did find time to show a nice tug on Rooney by Spinner
on the edge of the area that was not noticed by the ref. Rooney, as
he did all night, fell over all too easily. (What a strange game he
had, played centre half at times!) Nice to see the free kick from
several angles and, yes, Rooney was not fouled by Sodje just before
the free kick, while JCR was by the uncapped Jones, a foolish error
by the boy. Still, they all felt it was only a matter of time.

Well not this time, the worst defence in the championship held out,
Sodje, Prior, oustanding along with little Darryl. A mention to Kevin Maher, our oustanding player this season, how he could do with
some decent support next to him. Francis, when he came on, and the
hard working JCR were also magnificent. (Hell, they all were!)
Blues players were celebrating after the game
After the game the summing up was fair and the interviews with the managers interesting. Tilly looked, and probably was, in a state of shock! Fergie was magnanimous, not something you can always say about the dour Scot. Freddie gave the deep sounding Darryl the man of the match champange, I thought his voice would be more squeaky!

There was one incident I missed live while I was having a go at Rennie for stopping play. Slow motion showed Efe heading Rooney in the back of the neck with the ball cleared and right in front of Rennie. "Clear penalty" all three shout. I've now looked at it
several times and why did Rennie not give it. Honestly, I would have
given him the benefit of the doubt, non biast as I am, it looked as
he was in the motion of going for the ball but, er, Rooney got in the
way after the ball went clear. Or B), he just fancied man U losing,
more cameras on him when the whistle goes!

I sat and watched Darryls three amazing saves over and over again
from all angles, the second half Ronaldo free kick was the pick for
me, he's been scoring them for fun this season, but I know a lot of
you go for the first half stunner.

Before I knew it it was 4.20am! Luckily I did not have to be up
first thing and some how I have to get in the mood for the Python
musical 'Smamalot' tonight. After November the 7th, for 12 bloody
hours, the knights who say "Ni" might pass me by, the way I feel
typing this it's more, "bring out your dead!"
Carling League Cup, Tuesday 7th

November 2006 @ 20:00
Personal information
Full name
Freddy Eastwood
Date of birth
29 October 1983 (

1983-10-29

)
Place of birth
Basildon, Essex, England

[

1

]

Height
5 ft 11 in (1.80 m)
Playing position
Forward
Club information
Current club
Coventry City
Number
10
Youth career

1997–1999

Southend United

1999–2002

West Ham United
Senior career*
Years
Team
Apps†
(Gls)†

2002–2003

West Ham United
0
(0)

2003–2004

Grays Athletic
55
(34)

2004

→ Southend United (loan)
4
(4)

2004–2007

Southend United
111
(49)

2007–2008

Wolverhampton Wanderers
31
(3)

2008–

Coventry City
108
(17)
National team‡

2007–

Wales
11
(4)

* Senior club appearances and goals counted for the domestic league only and correct as of 29 April 2011.




† Appearances (Goals).

‡ National team caps and goals correct as of 20 August 2008
(Player info supplied by Wikipedia, for the whole article: http://en.wikipedia.org/wiki/Freddy_Eastwood)
Interact with us