Follow the Eastbrook: Pub Crawl in Dagenham & Redbridge
Feature by exiledessexboy
Updated Wednesday, 16th November 2011
A bit more time this time around after the evening JPT but still not a great choice, not helped by the tube closures, just hoping all 1,500 tickets holders don't turn up at the same pub!
A bit of a beer desert Dagenham but if you don't fancy traipsing around the town
The Daggers clubhouse
is open to away fans on most match days for a day membership which was 50p and did serve a decent pint of Young's.
Also open to Shrimpers will be the
bar under the Marcus James away stand inside the ground, fizzy lager available if you must.
(Thanks to www.fansfocus.net/dagenhamandredbridge/index.asp for the map)
As for the rest, here's a small, but we hope perfectly formed, selection.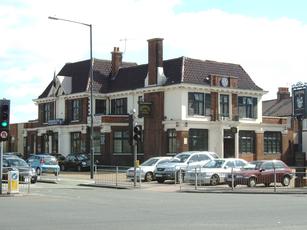 Certainly the only hostelry if you fancy some choice of decent ale and it usually has two or three on offer.
Go north young man for the ground, around 20 minutes.
Dagenham Dave certainly likes it, he wrote last year on
www.beerintheevening.com
, the site who we also thank for the photos:
'

I think this is the best pub in Dagenham by far, locals use it regularly. Staff are friendly, lager and real ales all in good condition, the interior is beautiful and is listed. Great effort has been made to make it look inviting with new plants and paving...it is what it is..a nice pub in an urban setting.'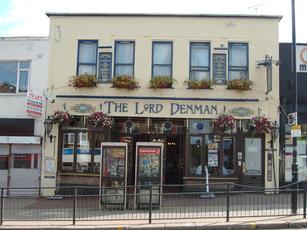 Dagenham's Weatherspoon's, not one of it's best, but you know what your gonna get and in these tough days if money's tight.......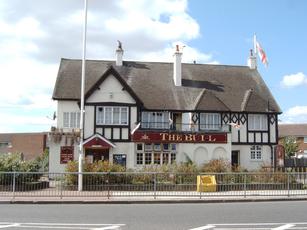 A gamble this as it's just recently re-opened and it was a bit of a dive before, but from the photo it looks spruced up, will give it a go and report back.
However, it's off the Rainham Road South on the roundabout at the top of Ballards Roadand for those driving the pub is an easy landmark to find within a couple of minutes of the ground and has a decent sized car park.
Pub Grub & Pie and Mash!
Food is served in some form in all three establishments but there are a choice of fish & chip shops, an Indian & a Chinese take away all down the Rainham Road, and close to the Eastbrook is a genuine Pie & Mash shop, go on, treat the missus!
Letting the train take the strain from Romford
Yes, there's tube engineering works going on, www.southendunited-mad.co.uk, so for those that decide to get off at Romford on the Southend Victoria line, here's an idea before you get on that 103 bus to Victoria Road.
Of course, for the exiled Shrimpers like myself who are going from liverpool Street an early set me up in the Hamilton Hall will be nice.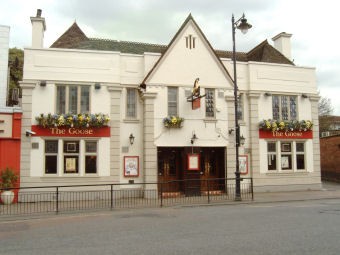 The Goose, [map] [gmap], is right next to the station with the bus stop close by where there are six an hour to grab, and though a chain needs must if time is on your side.
Interact with us