Avoid most near the ground, there is a Slug and Lettuce if you have to, and grab a pint at London listing magazine Time Out's No. 2 pub in the whole of London, let alone the West bit. (The No. 1 is miles away!)



The White Horse, 1-3 Parsons Green.
Top-class boozer

A stupendously popular SW6 stalwart - never mind the tired 'Sloaney Pony' nickname - does what it does best exceptionally well: namely, the fantastic (and somewhat mind-boggling) array of beers. There are 60 (count 'em) available at any one time, including 30 on draught, eight of which are cask ales (the likes of Harveys Sussex Best, Adnams Broadside and a rotating array of guest beers). There's always a cask mild, stout and porter on offer too, so it'll come as no surprise to hear that the pub hosts regular beer festivals. Punters are a generally well-to-do and decidedly loyal bunch - off-duty chinos and air-kissing feature heavily.

Time Out Eating & Drinking Guide 2009
This excellent pub is tucked into the north corner of Parson's Green, a patch of greensward that's a communal garden to the well-heeled twentysomethings of New Kings Road. You can hear them chattering, quaffing and braying every night of the week in midsummer. But don't let that put you off. This big, handsome, well-maintained Victorian pub is very welcoming, whether you're sinking into its button-backed leather sofas, inspecting the original prints on the wall or trying its excellent, home-made food. It's huge and stately (it used to be a coaching inn) with high ceilings and flagstone floors, a mahogany bar with real fires in the winter.

You should come here for the beer as well as the company. They have a bewildering range of real ales, plus 45 imported bottled beers and at least a dozen single-malt whiskys. If there's a better pub to stroll to in search of a lunchtime pint, I've yet to find it. The Gents and Ladies loos are denoted as "Pistols" and "Dolls" respectively - not a reference to children's playthings but to Shakespeare's Henry IV Part 2, in which Pistol is a friend of Falstaff and Doll Tearsheet a whore in the Boar's Head Tavern. The White Horse is that kind of bar!

So let's liven things up for the locals, easy half hour walk to the ground or a tube stop/15mte. bus ride.
(Parsons Green Tube, see arrow on map above, blimey you can walk to the ground!)
Suppose I've got to offer something else so two to go for if feeling adventurous and it's not five below and pissing down.


The River Options - (1) Putney



The Dukes Head, 8 Lower Richmond Rd.


Youngs Ordinary and Special are available alongside Bombardier, Tribute, Standard and premium lagers. The island bar is huge and makes the big pub seem a lot smaller. The rear of the pub with the windows facing the river is a dining area and there are 2 benches outside facing the river which might not be in use unless your desperate for a fag.

Have heard it's not the pub I saw the start of an England-All Blacks game before popping over the river to see Southend lose at Fulham many years ago. New manager not so well liked but a great location and Young's beer can't be that bad! Might need a credit card to buy a round though!

Still, if it has gone down hill there's a couple of other options within five minutes including the legendary Half Moon.



(That's Putney Bridge tube just in vision bottom right, 2 stops from Fulham Broadway.)

(2) Hammersmith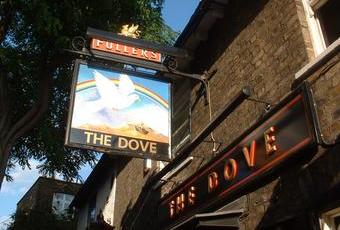 The Dove Inn, 19 Upper Mall.


Will not lie to you there are nearer pubs to the bridge and the bus station, the Blue Anchor springs to mind, but if you have the time this is a Fullers pub par excellence with a cracking log fire to boot.

It oozes history from every nook and cranny of its dark wooden interior. It has what is claimed to be the smallest bar anywhere on the right as you go in the pub - but I have never been in it as there have always been a couple of drinkers already in there, and three would definitely be a crowd! Excellent views of the river from the terrace, and superb Fullers ales make this a 'must visit' pub on any visit to the area. The food's not cheap, but it does not pretend to be a backstreet boozer - so you "pays yer money and takes yer choice"!


Would have to leave 1.30-ish to make sure you get to the ground in good time so only worth it if your up by noon but I promise, worth the walk.



(District Line is the tube station in the shopping centre where you can also get buses directly to the ground.)


Wherever you end up, drink sensibly, drink wisely and, oh bugger that, just drink.

Enjoy!