Thanks to www.ciderspace.co.uk for the above, couldn't put it better myself, I've been going there regularly for over 10 years and it's a real scitzo place.


The last time we were here, a late Bailey equaliser in February, the second match in our unbeaten 13 match run to the play-offs, I was sadly off the booze, a mistake I will not be repeating this time around! (And it was very windy!)

It's just a shame it's once again a non-Saturday fixture. There's many a crawl I could put on offer here!

However if you do get to town early there is one of the better Weatherspoons which is very big and usually employs more than two bar staff. At 1.89 a pint of something very good it's worth a visit with under a 20 minute walk to the ground to follow. The Moon Under Water is at the top of the high street at 16-28 Bath Road, GL53 7HA. It takes 20 minutes from the rail station, just follow the signs into town or catch a bus to the high street, there's a stop right outside the station. You could get bus 'A' from the high street which takes you to Whaddon Road. As it's Tuesday it will even be Steak day with plenty of cheap meat on offer from 15.00!



Give yourself enough time to visit the Cotswold in Portland Street. A cosy little Wadworth pub, they had 6X, Henrys IPA, Horizon and the wonderful Bishops Tipple on offer, while I was drinking a pint of diet coke. Never again!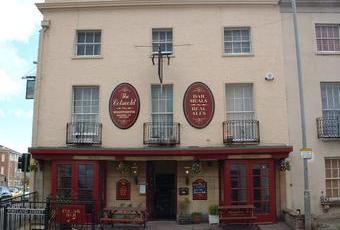 You may get the Bishops Tipple but probably not the Blues singer

There was also a wonderful Blues singer putting out some cracking tunes but as that was a Friday night in March and this is a Tuesday night in November it just might be me and the Bishop.



There is a club bar at the ground called the Robins Nest which allows in small numbers of away fans for a small admittance fee. Two relatively close pubs found to the ground are the Fox & Hounds & The Greyhound, but they both have more of a home feel about them.

Away fans are probably better heading to the 'Sudeley Arms' or 'The Conservatory' on Prestbury Road on the outskirts of town. There is even a decent fish & chip shop situated in-between the two. To find these pubs, turn right out of the club car park, and then turn left at the end of the road. Go straight over the roundabout, and The Sudeley Arms is on your left and the Conservatory is further up on your right. It is no more than a ten minute walk from the ground.
Nearest pub to the ground is the Cat & Fiddle Inn, (63 Whaddon Road, GL52 5NE), about a minute or so walk but obviously very busy with home fans. Fair size with open-plan lounge, pool, and a small garden for good weather. The real ale is Arkell's and there are various ciders. Stella and Carlsberg are the lagers. Doesn't do food.



As Francis Laurant might say; "apprécier".