There are plenty of outlets in the area, as one would expect. Along Gloucester Road is probably the place for food and drink, with a goodly number of Indian restaurants - locals recommend the
Ghurkhas
.
The Bristol Fryer
is a chip shop also with a good reputation.
I'm focusing on the Highbury Vaults walking up to the top of St. Michael's Hill, (and it is an 'up', fitness and drinking in one afternoon, what more do you want?), in the town centre. (There's plenty of others you could pop into while walking up if you need a rest!)
However if you are stuck for time there's a few names to play with by the ground, if your coming in by car or close to the stations.
Many thanks to those hardy drinkers at Yeovil fansite
www.ciderspace.co.uk
for their help in preparing this article, they know their beer!
In Gloucester Road you'll find masses of pubs. We are expecting a large number of the ones nearer the ground to not allow admission to away supporters on the day due to past problems in games not involving the Glovers. Hence don't be offended if some of the nearer pubs turn you away, and just to be on the safe side, just exercise a bit of common sense if you do get into any of the closer ones. The pub officially recommended by the local police is the
Sportsman
public house in Neville Road.
Other nearer ones are
The Wellington
(to the north of the ground near the junction of Gloucester Road and Muller Road), the
John Cabot Inn
(to the south of the ground), the
Prince of Wales
further down towards Montpelier station in Bishopston, the
Golden Lion
,
Goose at the Flyer
,
Hobgoblin
, and closest to the ground
The Victoria
and
The Gloucester Arms
, are just some of them. Also in Bishopston and worthy of a mention is the
Annexe Inn
which stocks a good range of ales including the now not so local Smiles brew.
In Ashley Down Road (south of the ground)
The Foresters
at No.64 and the
Ashley Arms
at No.112 are solid standard hostelries. The beer is nothing to get excited about but both are welcoming to fans and do bar food. Ashley Down Road also has a good fish and chip shop and a Chinese restaurant.
For pubs a bit further away and westwards the
Kellaway Arms
and the
Beehive
are unlikely to catapult straight onto your Best Ten Pubs Of All Time list, but you won't go too far wrong with them either.
If waiting for a train at Temple Meads, or thirsty having just arrived, the best pub close by is the
Reckless Engineer
(in Temple Gate right opposite the station.) The beer range constantly changes and it is a bareboards pub for serious drinkers.
If doing the same at Bristol Parkway catch a cab quick and get close to the stadium, but if you miss a connection, there's the
Parkway
, what else, just outside the station.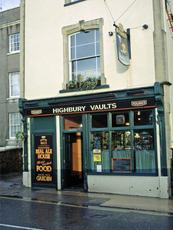 Still worth a stroll up the Hill, just to see how it's changed if nothing else!

Memories of the Highbury Vaults could fill a whole new column, however the news that the local Bristol brewery Smiles has gone under, which used to own the pub, since the Blues were last in town on a Saturday is sad. Benjy's winner in 92 against City was even more enjoyable after a few pints of their best bitter, the pub helped get over the shock of a Bramble goal at Rovers a decade later.

It was a real 'old-fashioned' pub with a clientale of all ages, it was great when we played both Bristol clubs in a season or I was visiting the town for work or seeing a show when I lived in the south west.

As I get in at 12.30 I'm going for it but try and not be tempted by the other delights on the way up! I hope good memories are not spoilt.

Young's Special is still a good beer but the brewery have spent a fortune making their pubs look very similar, if you have the time give it a go, you will have to leave soon after two, earlier to grab a pint nearer the ground.



Brewed in Bristol 2003, for the 30th, brewed in Walsall!

I hope we don't end up sharing the view of this guy, written a year ago now.

In many ways the Vaults is still a wonderful pub. Indeed, in most British cities it would easily rate as the best of pubs. The Vaults though, to me at least, is spoilt by a deep sadness for what it once was and no longer is. The beer is still well served and still includes the remarkably hard-to-find in Bristol Brains SA.

Youngs doesn't travel that well though and the Bedford-brewed 'London' ales are rather poor imitations of the Wandsworth stuff. Moreover, when Smiles ran the pub the Brains and Smiles were joined at the bar by an ever changing roster of interesting guest beers. I remember on one fateful day walking into the then wonderfully cosy front bar - the plaster has since been removed from one of the walls exposing the cheap-looking brickwork that built much of Bristol, it looks nasty and cold, please render the wall again, please - to find Nethergate's Umbel Magna and Welton's Pride and Joy. How many Bristol pubs would be as brave as to serve two such unusual beers - at the same time?

Then again, to make you feel the walk is worth while, this bloke from around the same time.

There are about half a dozen other pubs in walking distance, (climbing if you've just ascended St. Michael's Hill), but once you're inside the Highbury there doesn't seem to be any good reason to go anywhere else.

Enjoy!



From the Vaults walk into Cotham Road, then up Cotham Brow where you will join Gloucester Road and the ground. Good 30 minutes.

The Reckless Engineer: For those taking the train to Bristol Temple Meads by rail this has been my first port of call. Live music (new acts and tribute) every Saturday, the real ale is Otter Bitter, Butcombe Bitter and a changing guest. Serves Addlestone's Cloudy Cask Conditioned and Blackthorn ciders. Also Guinness, Carlsberg and Stella Artois. Does food from 12.00 noon - 8.00 p.m. everyday, children are welcome. Hugely preferable to the Temple Meads Railway Station Bar!


Foresters Arms: A large street corner redbrick community pub just east of the Gloucester Road in Ashley Down Road and convenient for the Memorial Stadium. Does Butcombe, Courage Best and bar meals. We've been told children are allowed in this pub until 8.00 p.m. There's a good fish and chip shop in the road.



Annexe Inn: In Nevil Road, a community style pub which caters to a wide range of clients. There's pool and darts, TV sports coverage, disabled access, a large garden and conservatory. Children are welcome until 8.30 in the evening. Beers are Bath Ales' Barnstormer, Courage Best, Boddingtons, Smiles Best, Bass, and Marstons Pedigree, plus a guest from a smaller brewery. Food is served 12.00-2.00 and is of the filled rolls and whatever plus chips variety.



That's Nevil Road the arrow is covering!

Sportsman: On the corner of Nevil Road and Seymour Avenue, as the name suggests this is a big sports bar as well as being the Old Bill pub of choice for away fans. Has thirteen pool tables, and big screens and televisions showing up to four different sports channels at a time. Also darts and a jukebox. Cask beer is only Courage Best and a guest, but you'll be thrilled to know it does John Smith's Extra Tasteless, sorry, Smooth, and five different draught lagers that taste absolutely identical to any other five different draught lagers! Unspecified bar food served from noon and opening hours are 11.30-11.00.



And again. Yes, it's close to the Annexe!

The Victoria: Small redbrick hostelry on the A38 very close to the ground and popular with Rovers fans. Opens 12.00-11.00 on Fridays and Saturdays, with bar food from 12.00-2.00. Although mainly a drinkers pub children are allowed and there's footy on the TV. The beers are London Pride, Old Speckled Hen and Courage Best, with a couple of lagers and three ciders on tap.



Even nearer the ground!

The Wellington: More like it - this outlet was taken over by Bath Ales in 2002. Stocks Barnstormer, Gem, and Spa, plus Bath seasonal ales at the appropriate times of the year. There's also a guest. Lager drinkers are not neglected, with Becks, Fosters and Budweiser. Cider is Stowford Press. Opening hours are 12.00-11.00 and food, with vegetarian options, is available from 12.00-2.00 and 6.00-9.00, but don't bother unless you get there early. Hardly room to breathe from an hour before kick-off. The pub has a car park, and is a short walk to the away end. A 'No Away Fans' notice and security on the door - odd then one recognised half the faces in there!



You can see the floodlights!