There is a small
Labour Club (C.I.U. Affiliated)
right by the entrance to the Railway End, that allows visitors in, for a small entrance fee. It is a small club that could do with modernising, but most find it comfortable & welcoming.
Otherwise there are a number of pubs along a shopping area, across the main road from the away end. Probably the best is the Royal Oak just at the end of Castle Street. Very friendly, away supporters are welcomed and there's always a bit of good natured banter flying about.
Please note that alcohol is not available in the away end. If you chose to drink in Stockport town centre, it is worth looking out for a Robinsons pub, as the beer is excellent and is actually brewed in Stockport itself.
In fact, it's hard to get away from them as 79 of their more than 400 pubs are in the town and immediate surrounding area. The brewery is in the Hillgate area of Stockport, was started up in 1838, and is still owned by the founding family. They remain focused mainly on real ales, but have added a couple of kegs - Smooth and Dark Smooth - to their range. If tempted by Old Tom, treat cautiously: at 8.5% it can have an er, interesting impact.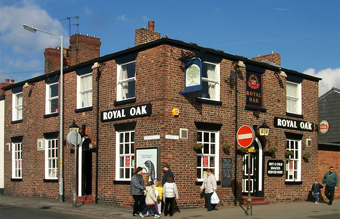 The Royal Oak: Close to the ground, the pub to aim for if time is limited. Always busy on matchdays with a fairly steady service, small garden to the side. Inside is always warm on cold winter Saturdays. If serving, definitely try Joey's bitter or Joseph Holts.


Arden Arms: Greater Manchester's Regional Pub of the Year 2008-09. A traditional Robinsons pub with an excellent interior. The hand pumps are rather unusually at the back of the bar facing you. Five hand pumps but four available; Hatters, Unicorn, Double Hop and Dissy Blonde. Food recommended, Steak ale pie and chips at £8.95, cash only. Children welcome. Towards the northern end of the town centre close to the market, about 20 minutes walk from the stadium. 23, Millgate.
Crown Inn: Fifteen minutes walk due north of Edgeley Park up by the M6 and right under the railway viaduct. Local CAMRA Pub of the Year 2008. At last, something that isn't Robinson's. The regular house ales are Copper Dragon's Golden Pippin and one from the Pictish Brewery stable. These are supplemented by a dozen or more ever changing guests, mostly from small or micro breweries from all across the country. Usually has two genuine ciders on. For keg drinkers there's Krombacher, Carling, Guinness and Stowford Press Cider. The continental Liefmans Kriek, a cherry based beer, is also stocked. A beer garden means smokers don't have to resort to the street. 154, Heaton Lane.
Calverts Court: Wetherspoon in the centre of town. A little under twenty minutes walk to the ground. 13, St Petersgate.